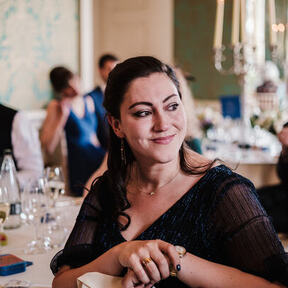 Hello! My name is Galine and I am one half of "Pick n Mix Samples". We are two colleagues who became friends through a love of fountain pens. We attended the Chester Pen Show, selling ink samples and were delighted to get good feedback. All our inks have been purchased from a variety of established online retailers, and we hope that having a sample will allow you to confidently purchase your next full bottle with these retailers.
We love to use these inks ourselves, and therefore, ensure that each sample that comes to you is entirely representative of the brand (this can be sometimes challenging with shimmer inks). We care for the bottles and do everything we can to ensure that there is no contaminant or mixing between inks.
Currently, we are selling inks that we use and love, so the ranges of inks are not complete. We did get very carried away with some of the new and exciting ink brands like Troublemaker and Dominant Industry and as such, we may not have the personal expertise of these inks, but there are plenty of reviewers online (such as mountain of ink) who will give a more thorough review than we ever could!
At the moment, all samples are being sold as 5ml. If you would like to purchase additional samples, please select "pick up" on the others, which will remove the postage charge.
You may choose up to 8 samples which will still be covered by the £1.05 postage charge.
Dominant Industry
Apple Blossom
Autumn Forest
Christmas Red
Dawn
Dusk
Early Spring
Fairy Forest
Glacier
Lapis Lazuli
Lavender
Milky Way Blue
Natural Green
Periwinkle Twinkle
Snowfield
Spring Fields
Sunset
Tanzanite
Winter Night
Noodlers
Bad Black Mocassin
Heart of Darkness
Black Swan in English Roses
Lexington Grey
Habanero
Green Marine
Black Swan in Australian Rosea
Prime of the Commons (blue-black)
Brexit
Apache Sunset
Rachmaninoff
Ottoman Rose
Baystate blue
Krishna
Pakeezah
Sindhoor
Palasa
Halloween Orange
Thulsi
Winter
Bauhimia
Azaelia Flora
Granade
Mandara
Goldfish Gold
Moonview
Sea at night
Caramel
Njaval
Writers night
Mumbai
Poyka
Kolkata
Dilli
KWZ
Baltic Memories
Honey
Old Gold
Grapefruit
IG - Mandarin
IG - Green Gold
IG - Gold
IG - Blue-Black
Troublemaker
Abalone
Basilica Red
Copper Patina
Doña Victorina
Dragon Fruit
Foxglove
Kelp Tea
Pétrichor
Purple Yam
Simoun
Sea Glass
Starry Night Blue
Vinta
Armada
Bobadil
Clouds of Grey
Dugong Bughaw
Jewel Green
Makopa
Mother of Pearl
Mystical Eve
Plume
Sandugo
Sea and Sky
Sirena
The Maiden
Pilot
Asa Gao
Chiku Rin
Future Gaki
Ina Ho
momiji
Murasaki Shibuku
Syo Ro
Tsukushi
Tsutsuji
Yama Budo
Sailor
Manyo - Yomogi
Shikiori - Yonaga
Shikiori - Chushu
Shikiori - Wakauguisu
Shikiori - Kin Mokusei
Shikiori - Yamadori
Shikiori - Tokiwamatsu x2
Irori
123
173
243
431
731
Robert Oster
Crocodile Green
Fire and Ice
Heart of Gold
Red candy
Soda Pop Blue
Rohrer & Klinger
Alt Goltgrün
Salix
Scabiosa
Verdigris
Organics Studio
Barkley's Blue Teal
Lamy
Amazonite
Pelikan
Royal blue
Golden Beryl
pure pens
Welsh gold
Barrafundle
Queen Elizabeth 2 purple jubilee
1 followed person
7 received reviews (100% positive, 7/7)